Last Friday night I stayed in all night. This Friday night does not seem to be shaping up much differently. Except that peeps, I am totes excited about staying in tonight. I am gonna do laundry. Clean. And possibly blare Katy Perry and jump on my bed while singing along. I do actually do that. I might also pay bills. Grocery shop. Make brownies. Figure out how to make up for the fact that I am a HUGE jerk who forgets important things like ANNIVERSARIES (
I am majorly guilt trippin' over that one
).
The point is: Ima make it do what it do tonight. And I hope you do too.
Have a fantastic weekend everyone. And if it is not looking as awesomely sunshine-y in your neck of the woods as it is in mine, here are some things that might help you laugh the grey or gray away: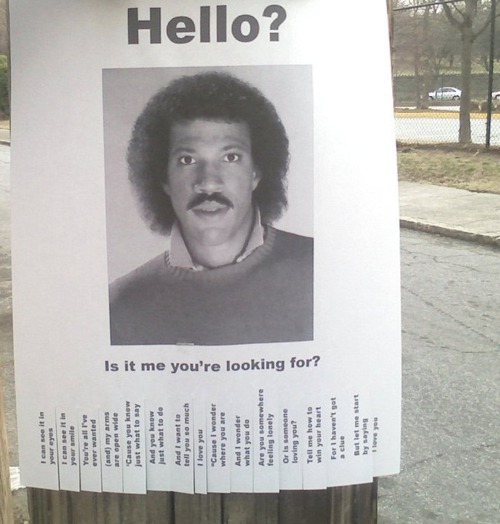 VIA Neatorama:
http://www.neatorama.com/2011/03/04/hello/
Along the lines of Eats, Shoots, and Leaves (eats shoots and leaves).
Taylor @
Fanciful Wanderings
is totally my "You've Got Mail" style bloggy friend (minus the whole romance thing) and she posted
this
video of Vampire Weekend's song, "Horchata." It has kind of changed my life. It just makes me so happy. ALSO, I am a hip-hop/R&B girl so don't judge me when I am so flippin' late to the party with some of this music. (
I am side-eyeing Mr. Matt Travis on this one
).
This video is completely dumb and dorky funny. You have to have sound. It's animal voiceovers. It amused me.
Via Neatorama
.