The other day I had this burst of ingratitude towards my social media stats because they have not reached epic celebrity blogger status. And then I told myself to SHUT IT because there are starving children in Africa that do not even have a Twitter account! Let alone 44 followers!
Seriously. It is such a poor indicator of human worth. Not that I was basing my worth on my social media status. I was just having a pout. I do that sometimes.
In reality, most of the time my social media stats make me feel a sense of accomplishment. I try really hard not to compare them to anyone else's. When compared to nothing but the effort I personally have put into my blog and the promotion of my blog, the statistics are pretty cool.
To illustrate:
~ To date my blog has had 23, 827 pageviews
~ My blog has 34 followers via Google Friend Connect.
~ I have 44 Followers on Twitter.
~ I have 30 Subscribers via Google Reader.
~ I have 5 Followers on Bloglovin' (Honestly didn't even know I had that many because I totally forgot about Bloglovin)
~And then there is my Facebook page. It has 8 Likes. It would probably helped if I ever mentioned I even have a Facebook page. Hey! Guess what? Meg's Mind has a Facebook Page! And it integrates my Twitter feed! And I generally post there when I have published a new blog post here! It is sort of a one-stop shop for all things Meg's Mind.
But this post is not a plug for pageviews or followers or likers or whatever. It is to say that I am grateful for you who do follow and like and pageview and comment (oh how I love the commenters!). You are all awesome. I don't take you for granted.
And.....in the least self-promotional way possible...if you are so inclined to like or follow or whatever, you can find me here:
Twitter:
@megsmindnet
Facebook:
www.facebook.com/megsmind5
Bloglovin: Click the button below (you can't miss it - it is a giant flashing Eiffel Tower)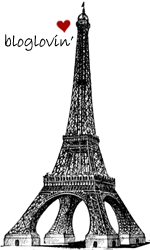 And in other news, I have two projects that if I ever stop procrastinating on, I am SO EXCITED to reveal to you in the -maybe probably not this is all a ploy to build curiosity about nothing-near future!